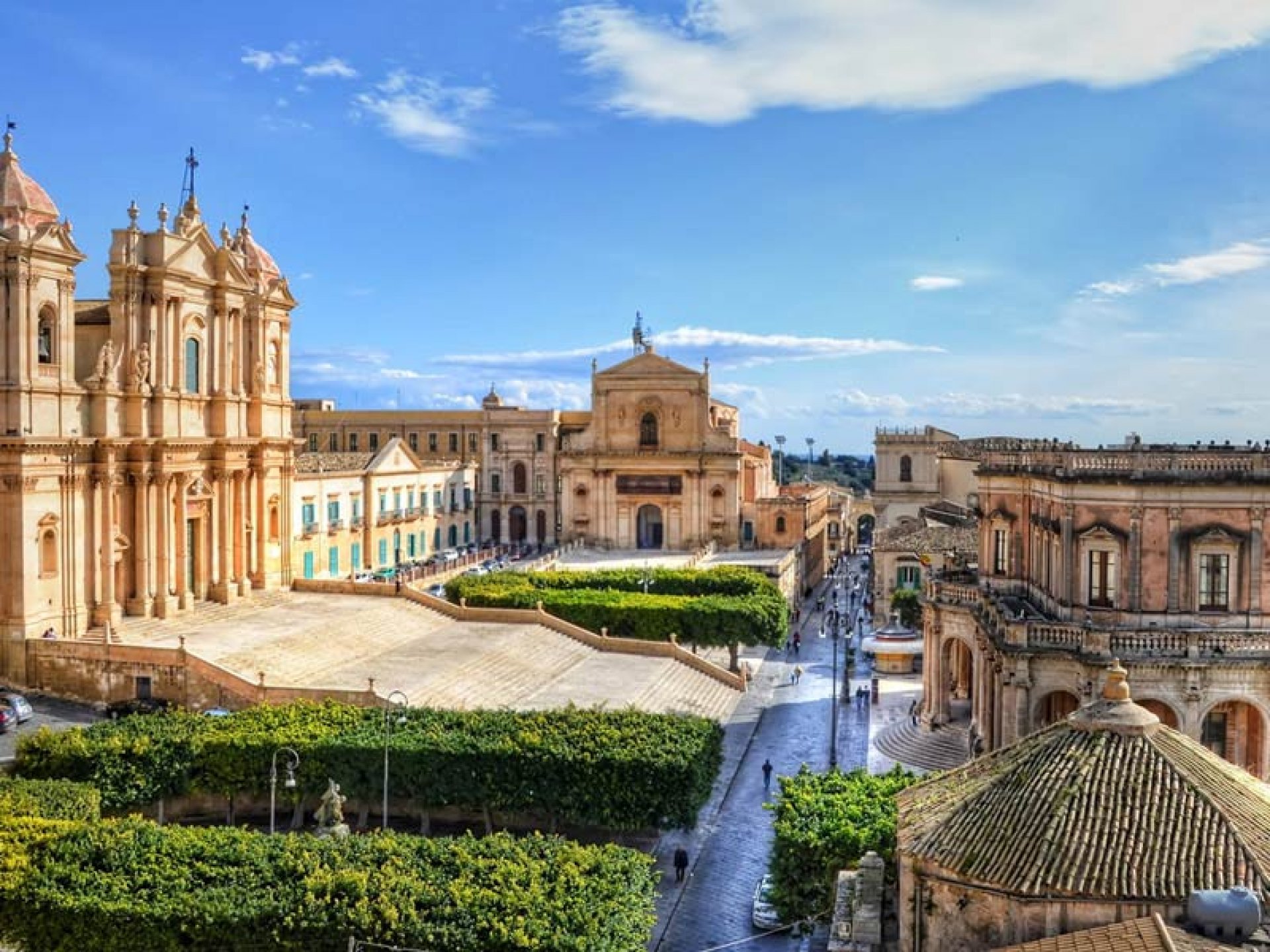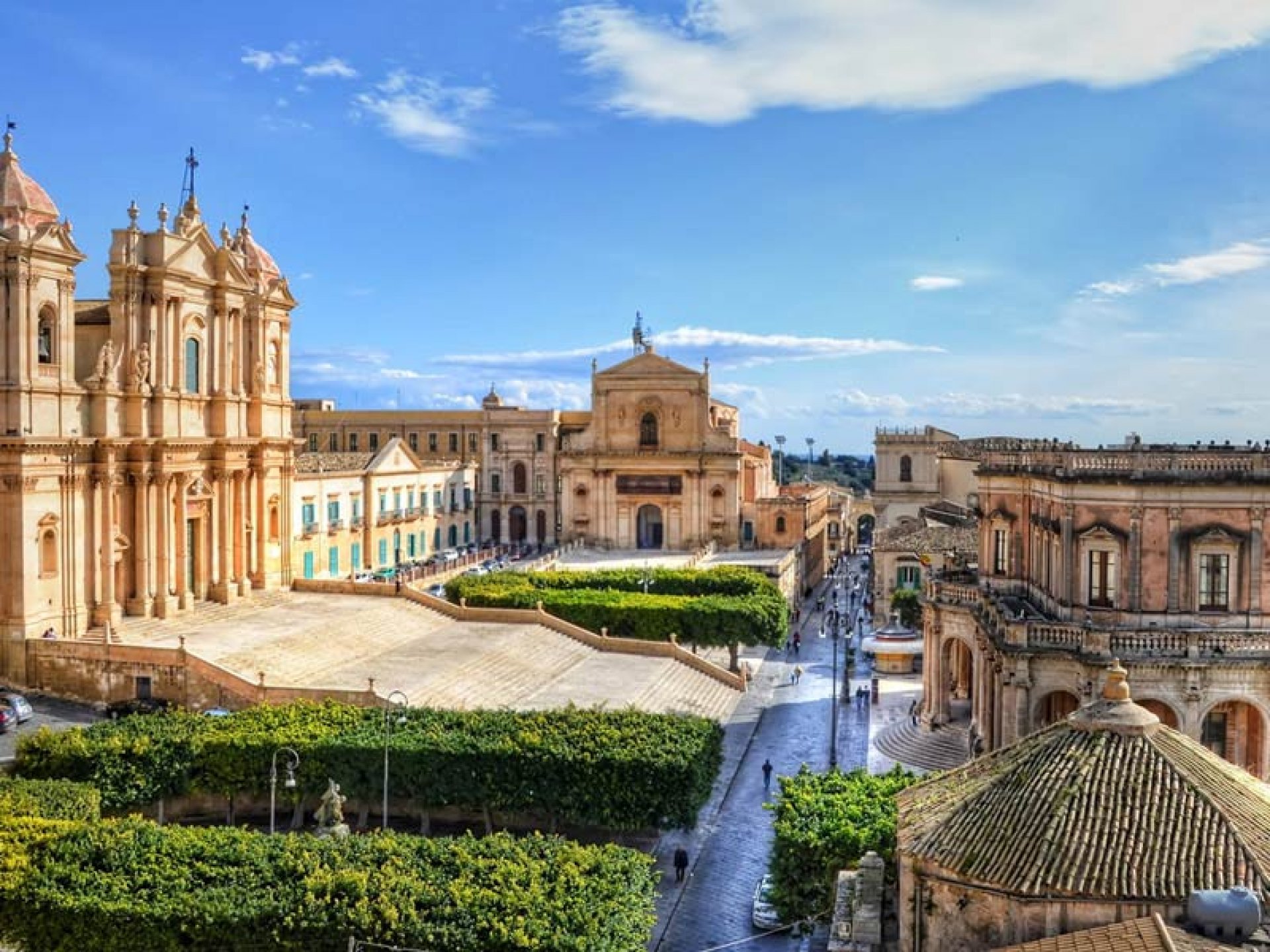 ---
Description
The history of southern Sicily has been shaped by a single natural cataclysmic event: the earthquake of 1963 which destroyed dozens of towns.
Out of the rubble rose some of the most fanciful Baroque architecture the world has ever known: churches, palazzi and public squares were reborn in what Unesco called: "the culmination and final flowering of Baroque art in Europe".
Noto is, quite simply, the apotheosis of Baroque town planning and architecture! Prior to 1693 Noto stood some 10km away from its present site. The earthquake destroyed the old town and a less vulnerable site was chosen for the new town.
Many Sicilian artists cooperated in Noto's reconstruction, conducted under the supervision of the Duke of Camastra, acting representative of the Spanish viceroy.
The new town was built like a stage set: its perspective were enhanced with curvaceous forms and curvilinear accents in facades, decorated brackets and keystones, curlicues and volutes, masks, cherubs and balconies with wrought-iron railings.
The main axis is Corso Vittorio Emanuele, which runs through three piazzas, each with its own church.
Piazza Municipio is the buisiest and most majestic of the three squares, overlooked on the left by the eye-catching elevation of the Palazzo Ducezio and on the right by the flight of steps to the cathedral entrance, with its broad and decorated façade.
Don't miss a visit to Palazzo Nicolaci: the richly carved brackets are ornamented with fantastical cherubs, horses, mermaids and lions, grotesque figures including one, in the centre, with an exaggerated snub nose and big lips.
Come in May in Noto! You will enjoy the spring festival which culminates in the famous Infiorata in via Nicolaci. Towards the middle of may the locals recreate brilliantly coloured tableaux of flowers composed entirely of petals inside the doorways of the palazzi. The cobblestones of the street are transformed into a giant canvas of petals to form designs which vary from year to year.
Not far from this area there are amazing coasts and nature reserve. Descend into the Cava Grande Gorge and take a refreshing swim in the natural rock pools at the bottom! From above, there is a magnificent view over the Cava plunging between sheer limestone cliffs. The river winds along the valley bottom, opening out intermittently to make a succession of tiny lakes. On the other hand, you can also visit the Riserva Naturale di Vendicari, created in 1984. It consists of a strip of marshy coastline which provides a rare and protected habitat for migratory species and a variety of sand-loving Mediterranean vegetation.
Lovely fishing towns are Capo Passero, Pozzallo, a sleepy hamlet that lies on the edge of a long beach Marzamemi, Pachino. The coast to the south of Syracuse has a number of attractive sandy beaches, such as Arenella, with its stretches of rocky coastline and picturesque creeks; Fontane Bianche and San Lorenzo, the most beautiful beaches in the area!
---